Footsteps in Time Volume 2 by Bill Manson
Volume 2 of Footsteps in Time
takes you on a
fascinating tour of old Port Hamilton and North-End
that grew up around it. Through stories, maps and
old photographs you can explore the rich history of
the neighbourhood that shaped Hamilton's
transportation, commercial and industrial destiny.
Thanks to 5 detailed walking tours around
North-End, you can take your own personal
footsteps in time through the heart of this heritage
port and neighbourhood and experience them
first-hand.
---
Retail: $17.95 Online: $11.16

---
YOU MIGHT ALSO LIKE...

Powered by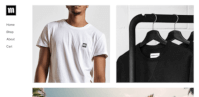 Create your own unique website with customizable templates.